Generic Lotrisone Cream for Severe fungal infection or Rash
Type of Drug: Steroid-antifungal combination
Prescribed for: Severe fungal infection or rash
General Information of Lotrisone Cream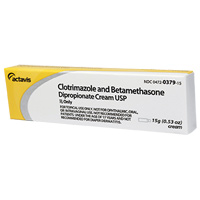 Lotrisone is one of a number of steroid (Betamethasone)-antifungal (Clotrimazole) combination products available by prescription. All of the other combination products have different ingredients but can be used for the same purpose. Lotrisone Cream is used to relieve the symptoms of itching, rash, or skin inflammation associated with a severe fungal infection. It may treat the underlying cause of the skin problem by killing the fungus and relieving the inflammation that may be associated with the infection. This combination product should be used only on your doctor's prescription. A combination product such as this may be less effective than applying either Clotrimazole cream or Betamethasone cream alone to the skin, depending on your skin condition. Improvement usually occurs within the first week of treatment. If you don't see results after 4 weeks, your doctor may need to prescribe a different medicine.
Cautions and Warnings
Do not use Lotrisone if you are sensitive or allergic to either of its active ingredients. Do not apply Lotrisone near or in your eyes. Avoid using this product on the ear if the eardrum is perforated, unless specifically directed to do so by your doctor. Check with your doctor before using the contents of an old tube of Lotrisone for a new skin problem.
Possible Side Effects of Generic Lotrisone Cream
Most common: itching, stinging, burning, skin peeling, and swelling.
Drug and Food Interactions
None known.
Generic Lotrisone Usual Dose
Gently rub a thin film onto affected area(s) and surrounding skin.
Overdosage
Swallowing Lotrisone cream may cause nausea and vomiting. Call your local poison control center for more information.
Special Information of Generic Lotrisone Cream
Apply a thin film of Lotrisone to the affected area(s). Washing or soaking the skin before applying the medicine may increase the amount of medicine that penetrates into your skin. Lotrisone should not be applied to the face, underarms, groin, genitals or genital areas, abdomen, or between the toes for more than a few days. Excessive use on these areas may result in stretch marks. Do not wear tight clothing after applying Lotrisone, especially when applied to the genitals or genital areas. Stop using the medicine and call your doctor if Lotrisone causes itching, burning, or skin irritation. If you forget to apply a dose of Lotrisone, apply it as soon as you remember. If it Is almost time for your next application of Lotrisone, skip the missed dose.
Special Populations
Pregnancy/Breast-feeding
Women should not use this product when it is to be applied over large areas of skin during the first 3 months of pregnancy, because Lotrisone can adversely affect fetal development. Nursing mothers should not apply Lotrisone to the nipple or breast.
Seniors
Seniors may use Lotrisone without special restriction.