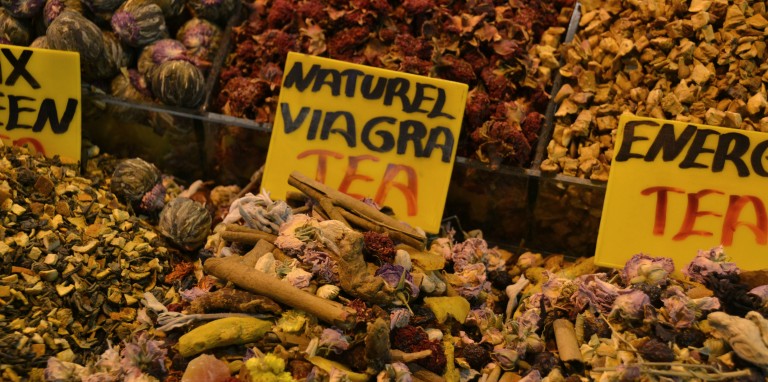 The Role of Herbal Viagra
Herbal Viagra (Natural) is the name that is used for the vast variety of herbal products that have the properties of increasing sexual performance and fertility. They can boost sexual desire (aphrodisiacs), help achieve a more firm and lasting erection, and enhance sexual sensations. They can also affect overall health, stimulating the immune system and nourishing other systems and organs of the body.  These herbal products have nothing to do with brand name Viagra and should contain neither sildenafil nor other synthetic substances similar to those in prescription medications.
Important warning: beware of frauds
Let us make it clear that what we will be talking here are trustworthy herbal products that are manufactured properly, and whose content is listed accurately on the package. There are a lot of frauds in the market nowadays that are being labeled as herbal, which contain unlisted synthetic chemicals. These fake drugs can be very dangerous for health, and we highly recommend checking the reputation of the manufacturer and the distributor before buying any herbal products. This unfortunate situation on the market causes many people to gain a negative impression of all Herbal Viagra, but fortunately, there is still hope for improvement, because the centuries-long practice of successful use of herbal remedies by humans can never be diminished.
Why should I look for Herbal Viagra?
The difference between synthetic and herbal drugs is that the former work via chemicals that are produced artificially, whereas the latter work via chemicals that occur naturally in the plants. For some herbs, scientists have determined the set of these active chemicals and the mechanism of their action, but for others, these mechanisms are still unclear.  Whatever the case, herbs have been successfully used by humans for as long as thousands of years, and we understand that no synthetic drug, including Viagra, can boast such a long trial period.
The main disadvantage of artificial products is that a significant percentage of men who use sildenafil (Viagra) or similar PDE5 inhibitors experience facial flushing, headaches, upset stomach or other side effects, which do not go well with sex.  Furthermore, for men with heart problems who take medicinal nitrates (such as nitroglycerin), Viagra is not an option, because taking it with nitrates and other similar medications can even cause death (albeit in very rare cases). On the other hand, many herbal products for erectile dysfunction have fewer side effects or none at all. If you have a heart problem or other health issues, you can choose the herb supplement that is not dangerous for you, and is compatible with your drugs.
Finally, most of these herbal products work not only by enhancing erectile function, but also improving overall health, improving mental ability and memory, fighting stress and anxiety, improving blood circulation, and nourishing the body. Thus, if you choose Herbal Viagra, you will, as they say, kill two birds with one stone.
Reliable Herbal Viagra products recommended by pharmacists may consist of several natural ingredients in different proportions, or have only one active herbal ingredient. In this article, we will give an overview of the most common herbs and substances that can improve erectile function in men, and therefore may appear as a component in Herbal Viagra. We cannot describe all of the herbs used for man's health her, but neither can anyone, because the world of herbs is vast and so is the history of men making medications from them. We will focus on the most popular and widely used plants, and try to give you an understanding of their positive effect on the body and their amazingly rich history.
Ginseng. The human-shaped wonder root
Ginseng was known in China for as long as five centuries. It was considered the remedy for all human sicknesses – a rejuvenating sacred herb. People took the shape of the plant as a sign to support their assumption. Not only do the leaves of the plant grow in fives, which slightly resembles a human hand, but its root has a shape that looks like a human body, being brownish-yellow, which adds to the impression.
A similar ginseng plant grows in the woods of America, and it has also been known and treasured by Indians from ancient times. One kind of ginseng also grows in Siberia, and it is called Eleutherococcus or Siberian ginseng and has a rich history of use by native people too. All the variations of the plant are slightly different, and one may have a stronger effect on the human body than another. Several studies have been conducted concerning the useful properties of ginseng, and they established it as promising.
In general, ginseng is believed to have the following effects:
Enhances body's strength, and helps recover from prolonged physical strain
Stimulates the immune system, and helps fight certain types of viruses
Improves blood circulation and strengthens the heart
Activates mind and memory
Helps recover from stress and depression
Stimulates the endocrine system, especially the adrenal gland
Has rejuvenating properties
Ginseng is used when the body is exposed to environmental, physical, or mental stress. Stress has many negative effects on the body, and it exhausts the endocrine system, the brain, and impedes blood circulation – the three parts that work together for good sexual performance. Supporting these systems of the body, Ginseng also helps fight erectile dysfunction.
However, some significant drug interactions have been found concerning the use of ginseng. First of all, this herb reduces blood sugar levels, and therefore, when taken together with diabetes drugs can cause blood glucose to drop to dangerous levels. Ginseng may also make the effect of certain heart medication and sedatives stronger, and interact with some drugs. If you take any medications and wish to use ginseng, consult your doctor. Use ginseng with caution if you have a history of high blood pressure.
Ginkgo biloba. The power of the oldest tree
Ginkgo biloba is nearly the oldest tree known to men, whose fossils date back over 200 million years. It is able to grow and thrive in the extreme conditions. The earliest record that mentions this kind of tree is over 3 thousand years old.
Ginkgo biloba is known for its ability to boost mental power, but the leaf extract of the tree is also used to fight impotence in men. Studies show that, similar to Viagra, Ginkgo Biloba increases the effects of nitric oxide, helping relax the artery walls, and allowing more blood flow to the man's genitals.
Laboratory studies have shown that the leaf extract of ginkgo makes blood "less sticky," so that it can flow easier, opens up blood vessels, and also works as a powerful anti-oxidant. It restores vein health, improving both memory and sexual activities.
The side effect is that ginkgo may increase the risk of bleeding, so it is not recommended for use before surgery.
Epimedium. The Yin Yang's favorite food
Epimedium (Horny Goat Weed) might be one of the oldest and most well-known herbs used for sexual health, discovered over 2,000 years ago. As the Chinese legend goes, the plant with the specific properties to stimulate sexual activity was discovered by a goat herder, who realized the goats act differently after eating this grass. The other legend claims that the mysterious Yin Yang creature loves to eat the leaves of the plant and leads a life full of sex and pleasure.
Epimedium, also called Yin Yang Huo or Horny Goat Weed, has been used in Chinese medicine for ages to improve sexual function and overall health. This plant is considered an extremely powerful aphrodisiac. Its compound Icariin works by relaxing muscles and by increasing the levels of nitric oxide, inducing the blood flow to the pelvic organs. It also increases libido and sexual performance.
Horny Goat Weed is also used for treating hypertension, bronchitis, asthma, coronary heart disease, joint pain, osteoporosis, memory and concentration problems, blood circulation problems, irregular menstrual cycles, sexual dysfunction in women, and erectile dysfunction in men. It produces an anti-aging effect and improves the immune and endocrine systems.
Horny Goat Weed is generally considered to be quite safe. However, it may lower blood pressure, slow blood clotting, and may affect heart function in some patients.
Damiana. The magic plant of Maya
Damiana is a plant that originates in South and Central America, growing 3-6 feet tall, and producing small yellow flowers and small aromatic fruits. Its leaves are used for treating many health problems, including anxiety and depression, gastric ulcers and stomach pain, constipation, bed-wetting, menstrual irregularities, bronchitis and asthma, paralysis, neurosis, dyspepsia, diabetes, nephritis, and hormonal imbalance. It is also used to enhance sexual prowess, libido, and for the overall improvement of the function of the reproductive organs. In addition to all its healing properties, Damiana also is a mood enhancer, helping alleviate anxiety, stress, and depression.
The Mayan Indians used Damiana as an aphrodisiac for both men and women. Apart from enhancing the libido, it also increases sexual pleasure. Damiana can improve blood circulation and oxygen supply in the genital area and help produce a hard and lasting penile erection. The leaves of the plant are available in capsules, extracts, and herbal tea.
Maca root. Inkan royal root of love and strength
Maca root (or Lepidium meyenii) grows in the Andes at highlands with freezing weather and intense sunlight. The incredible ability of this plant to draw the needed nutrients from the soils of Andes helps it thrive in the extreme conditions. The whole Lepidium meyenii plant carries different healing properties, but the root is its most useful and powerful part.
Lepidium meyenii was domesticated thousands of years ago, and the fact has been proven by archeological discoveries in the territory of ancient Peru.  People ate maca root and gave it to their livestock. In the times of Incan civilization, it was considered sacred, and only the Incan royalty possessed the right to distribute the plant. They ate it themselves and gave it to their warriors before battles to increase their strength. The warriors weren't allowed, though, to eat maca root after the battles, because the sexual stimulation that the plant gave was not desired in warriors when they had conquered another tribe or nation.
Nowadays, maca is available in different forms. You can take capsules, powder, tablets, and extract of maca. Its effect, in general, can be described as the restoration of hormonal balance, fertility, and sexual desire in both men and women. Associated with almost no adverse effects, maca root is used for treating anemia, leukemia, chronic fatigue syndrome, depression, female hormone imbalance (including menstrual problems, symptoms of menopause and others), osteoporosis, stomach cancer, tuberculosis, a weak immune system, and other conditions. Maca root helps in boosting energy, athletic performance, memory, and concentration. This plant increases sexual desire, improves sexual performance and fertility.
Yohimbine. The Famous African remedy
Yohimbine is a kind of tall evergreen tree that grows in western Africa. The bark of this tree has been traditionally used in Africa to increase sexual desire. The bark contains a chemical called yohimbine, which is helpful for treating sexual dysfunction. Yohimbine works by increasing blood circulation to the genitals, which helps increase fertility, treat erectile dysfunction, and significantly boost libido.
Nevertheless, this herb is thought to have some side effects, including a fast or irregular heartbeat, increased blood pressure, and anxiety. However, most of them appear when a large amount of yohimbine is consumed. If you use this herb, don't take excessive doses of it and consult your doctor if you notice any undesired symptoms.